Theme: Life in Colour
Closed on : 31st of December, 2016
Competition Closed
LIFE IN COLOUR
---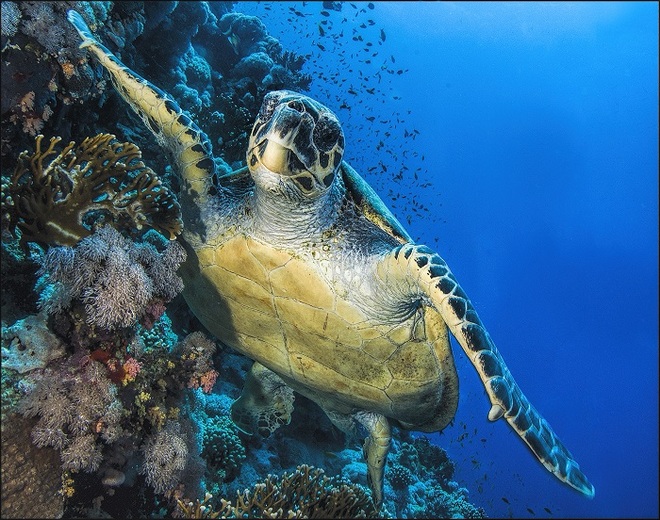 Len Deeley, Green Sea Turtle, Egypt.
Esteemed French painter Edouard Manet once said: "There are no lines in nature, only areas of colour, one against another."
The natural world is absolutely bursting with striking and vibrant colours and patterns. In the animal kingdom, colour has an essential role to play from attracting mates, warning against predators, camouflaging or mimicking, right through to communicating information and diverting attacks.
Plants and flowers are also known for their impressively vivid colours and many of them also use colour strategically to attract pollinators.
Whatever the reason for nature's heavenly hues, there is no denying that the biological world is a beautiful one indeed.
With this theme we are looking for photographs that explore colour in nature. You may choose to capture the striking colours of the flowering tulip bulbs in Holland, the autumnal colours of the changing season, the colourful face of a Mandrill or the changing colours of a chameleon. Take your inspiration from living organisms and send us your pictures of Life in Colour.
PRIZE
---
Sports Camera, VicTsing Full HD Action Camera 2.0 Inch 1080P Sport Action Camera with Waterproof 170° Wide Angle Lens 12MP Action Camcorder + Mounting Accessories Kits - Black
2-inch HD Display -

Easily preview videos and pictures, allowing fast forward/rewind videos. 170 degree wide angle fish-eye lens offer a wider field of view and can take in more surroundings.

Waterproof to 30m (98feet) -

IP68 Waterproof Case allows you to shoot up to 30 meters under water, perfect for water sports lover.

1080P@30fps videos+12M photos -

Capture outstanding visual quality videos and pictures. Motion detection, loop recording available, so it can be used as a security cam, dash cam. IOS, Exposure, Sharpness, White Balance can be adjusted etc.

Long Battery Life up to 90 minutes shooting time -

Anti-shake function compensates for the hand movement while shooting. 12-month warranty and professional after-sale service within 24 hours.
memory
Some of our recent submissions...
Enter My Photo
Click here to Enter
---
Competition Judge:
Ann Dickson L.R.P.S.
Ann was lucky enough to travel to Australia in her early twenties, where she was hit by the harsh bright light, after being so used to the soft light of Northamptonshire. The modern architecture mixed with the bright colours of the New South Wales scenery, taught her so much about how light plays such an important part in photography.

A career of working with horses, then having a family, put photography on the back boiler for Ann. But by the time her last child went off to school, digital photography had become more affordable. She got her first digital camera in 2004, and promptly signed up for an evening classes so she could learn about the black art of photo-editing software.

However, photography was once again put to one side due to family circumstances. But after moving house, Ann was taken to a local camera club by a wonderful neighbour, who took her under her wing and really pushed her.

After joining the local camera club and gaining the confidence to show her work, Ann went to a photographic exhibition whilst holidaying in Norfolk. There she met Joy Hancock F.R.P.S., M.P.A.G.B who encouraged her to take her photography more seriously and join the Royal Photographic Society. Eighteen months later Ann gained her Licentiate of the Royal Photographic Society (L.R.P.S.)

Ann is often asked to photograph weddings, portraits, and working dogs. But she is most at home photographing horses and can often be seen giving a leg up to a rider on a horse with one hand, whilst having a Nikon D800 slung over her other shoulder. Ann never seems to have the time to do landscape photography, due to the presence of her children. She was once told that photography was "not a spectator sport."

Ann is regularly involved with local camera clubs, teaching, judging, and small exhibitions and she successfully submitted her work to The Photographic Angle.

Ann knows that it takes guts to put an image up for judgment. Viewing images and not just looking at them, she tries to engage into the thought and emotional process of what inspired the photographer to press the button at that moment and produce the finished image.
Competition Archive
---
The Photographic Angle (TPA) is a company limited by guarantee, registered with Companies House in London (number 07063537) and is a charity registered with the Charity Commission for England and Wales (number 1135750). TPA advances education for the public benefit, in particular in the art and science of photography and its theory and practice, partly by holding exhibitions of photography freely accessible to the public. .
© 2009 - 2017 TPA All Rights Reserved - Links - T & C - Disclaimer - Webdesign by Refresh Creations Ltd
[Return to Page Top]