Theme: Flow
Closed on : 31st of July, 2013
Competition Closed
Motion, movement, high speed and sedate, cities, villages rivers and oceans wherever you observe 'flow'.
Movement, continuity, natural or man-made, rural or urban, we are looking for images that define 'FLOW' in the most obscure and creative fashion we wish to see it.
Send us your photographs which capture the idea of 'flow'.
---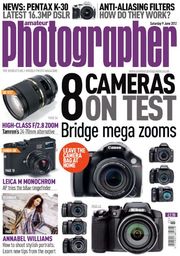 Win!
A
digital subscription to Amateur Photographer
magazine, the world's oldest photographic weekly. Each issue is packed news, product information and offers the reader professional advice and reviews - you might even learn a few new tricks!
All competition entries will be considered for inclusion in our FOOTPRINTS PUBLIC EXHIBITION (see terms and conditions for details)
Competition Rules
1. All photographs must be of your own work.
2. Images must have a title which reflects the subject of the work.
3. Submitted image(s) must be in high resolution (300dpi+) JPEG format.
4. Participants may enter up to 5 images for consideration.
5. Images will be judged for originality, creative interpretation and photographic technique.
6. All images will be judged by an independent photographic artist selected by tpa.
7. TPA will not enter into communication with individual photographers once the winner has been chosen.
8. The winner will be notified up to 28 days after the closing date for of the competition.
9. Click here for full terms and conditions.
Simply submit your work by emailing your image to:competitions@thephotographicangle.co.uk
Some of our recent submissions...
Enter My Photo
Click here to Enter
---
Competition Judge:
Steve Bloom
Steve Bloom is an award-winning photographic artist who specialises in evocative images of the living world. Born in South Africa, he first used the camera to document life there during the apartheid years. He was exiled for 13 years as a result of his photographs, and settled in the UK in 1977, where he co-founded one of London's leading photographic special effects companies.

In the early 1990s, he ventured into animal photography. His concern for the environment is strongly evident in his wildlife images and this struck a chord with the public. His goal to use images to communicate with the masses and take photography exhibitions outside galleries was done in spectacular fashion with his major outdoor exhibition, Spirit of the Wild. The exhibition has been seen by millions of people in 11 European cities with over 1.4 million visitors during the five month run in Copenhagen alone.

Steve is also an accomplished speaker and has authored a number of books that have been published worldwide in numerous languages.

We are very pleased to have Steve as a judge. Please visit his website www.stevebloomphoto.com to find out more about this extremely accomplished photographer.
Competition Archive
The Photographic Angle (TPA) is a company limited by guarantee, registered with Companies House in London (number 07063537) and is a charity registered with the Charity Commission for England and Wales (number 1135750). TPA advances education for the public benefit, in particular in the art and science of photography and its theory and practice, partly by holding exhibitions of photography freely accessible to the public. .