Theme: Capturing Culture
Closed on : 30th of June, 2014
Competition Closed
---
CAPTURING CULTURE - NOW OPEN FOR ENTRIES
The concept of culture is closely interlinked with that of identity, and for populations around the world it is culture that helps to define them and give them a sense of belonging. The beliefs, values and behaviours that distinguish one group of people from another are what makes the human race so unique and interesting. With this theme, we are looking for images that depict these specific differences and peculiarities from traditions, food, language, customs, and values, to gender roles, social conventions, local celebrations, social structure, recreational activities and religion. Whether you choose to portray your own culture or whether you have captured the culture of a foreign society or nation, we look forward to seeing your entries.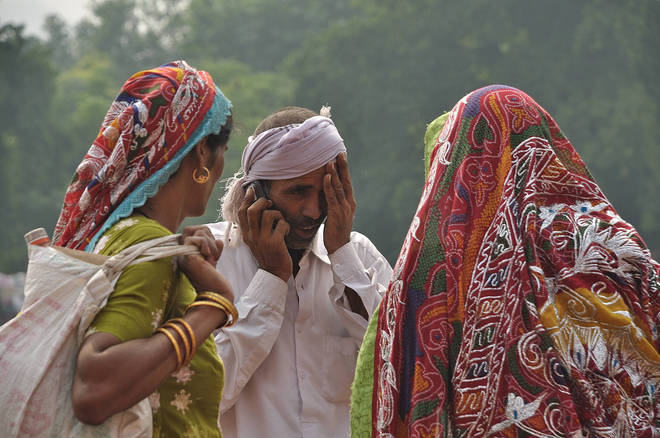 Navanil Dutta, Connecting People
THE PRIZE
A 12" x 8" Freestanding Acrylic Block with your winning photographic print seamlessly mounted to the back giving a striking modern alternative to the traditional desktop frame. The block will be laser cut and diamond polished to give you the very best optically clear block. The reverse of the block is finished with a black velvet covering and will be delivered in a presentation box.


---
ON THE EDGE - WINNERS ANNOUNCED
At some point in our lives we are all faced with being on the edge, whether that be literally or metaphorically. For the dare devils among us, pursuing that adrenaline rush can often involve scaling great heights, balancing precariously on the edge of a deep precipice, or finding the courage to leap off the ledge. However, being on the edge can also be an emotional reaction. Sometimes life can throw a curve ball leading to feelings of anxiety, torment or despair. However you decided to interpret this theme, we're asked to receive the most creative and inspiring images that you had to offer.
WINNING ENTRIES

1st Place: Philip Field - 'A Guides Eye View'


2nd: Ian Cook - ' Life on the ledge '

3rd: Mahfuzul Hasan Bhuiyan - 'Jump On'
HIGHLY COMMENDED

Victor Hugo Casillas - "The Tunnel"
Shamim Shorif Susom - "Fly Without Wings"
Arta Gailuma - "On the Edge of the World"

Eric Pollock - "Half On, Half Off"
Enter My Photo
Click here to Enter
---
Competition Judge:
Robert Dawson
I have been involved with photography for about 50 years, embracing all genres in my exploration of the medium.
I began by looking into the different areas of darkroom work, building my first darkroom in a garden shed. I took advice from local, experienced photographers and as I became more adept I began to explore the different areas of mono photography such as Lith printing, Bromoil and Gum Bicromat to name a few.
I have also worked with colour slides and prints, cross processing my negatives and slides; also experimenting using household chemicals which I added during the developing process.
I was proud to be awarded an LRPS and ARPS with the Royal Photographic Society and I hope to try and obtain an FRPS. I was also accredited with a CPAGB with the Photographic Alliance of Great Britain.
I became a judge with the East Anglian Federation of Photographers several years ago.
On my retirement I went to college to study for an "A" level in photography, and I then studied for an HND BTEC in Photography and Art History being awarded distinctions in all modules. I continued my education completing a degree in Photography and Digital Media in 2006 with my work centred on Abstract Photography as practiced by the renowned Photographer Aaron Siskind, the only photographer to be accepted into the New York School of Modern Art.
I am still enthusiastic about and active with my photography, belonging to three photographic clubs.
Competition Archive
The Photographic Angle (TPA) is a company limited by guarantee, registered with Companies House in London (number 07063537) and is a charity registered with the Charity Commission for England and Wales (number 1135750). TPA advances education for the public benefit, in particular in the art and science of photography and its theory and practice, partly by holding exhibitions of photography freely accessible to the public. .